Fundamentally, Lina Zaboras is a people person. First thing every morning, the CEO of DIDWW devotes her time in walking through the company offices and taking the pulse of the team, because, as she says, "to us, relationships are everything, and only by developing personal connections, can we make a difference."
DIDWW views its staff as the distinction that makes the company successful. "We don't see ourselves as producing products; rather, our people develop solutions," Zaboras points out. "Almost every customer has very individual requirements, and it's only by having dedicated and knowledgeable staff who can properly understand their challenges, that they can be confident of receiving a communications solution that will meet their needs."
Lessons learned outside the business
Lina Zaboras' appointment as the CEO of DIDWW was somewhat unusual. While she had ample skills and determination to take the business forward, her professional background in languages and education was very far from that of global telecommunications. "I'm not a specialist in technology," she says. "I am much more concerned about what is important to the customer, and how to earn their trust in delivering essential services to them. For me, total customer satisfaction has always been the ultimate goal. And I consider this basic philosophy to be critical when operating within the communications industry."
Lina' core values of respect, integrity, growth and education underpin DIDWW's business mandate. "We are not driving technology purely for the sake of it. We are driving technology to see how we can better serve our customers, and enhance the value of the solutions that we offer. That's one of the most significant principles that I have brought into the company, and what I am most proud of."
Managing a growing team
Zaboras describes herself as a demanding but fair manager, and her various skills and experiences have contributed to her leadership style in unique and valuable ways. "I'm a go-getter. For me, the sky's the limit and that attitude permeates throughout the company. I see myself as a straightforward and honest person, and I live up to that in all spheres of business. I have a passion for implementing our strategy and making sure it happens according to set schedules. My diplomacy as well as motivational and communications skills are invaluable in getting things done and making a difference," she says.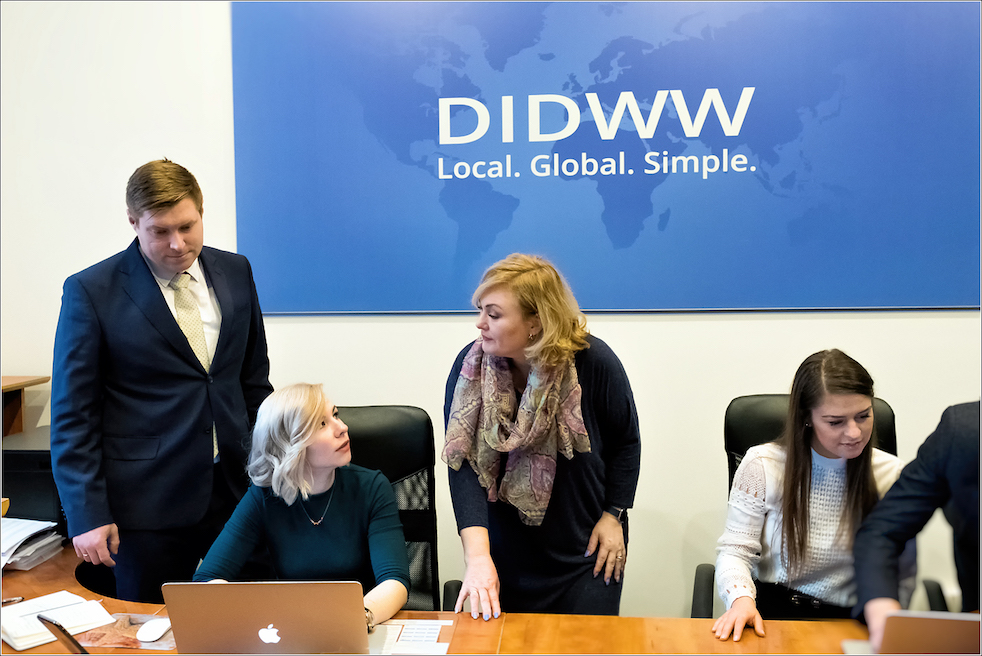 For Lina, critical components of her management style are building relationships and implementing the core values of DIDWW. "We work on the basis of respect, integrity, fairness and transparency, and I am careful to ensure that my leadership reflects these ideals. Also, I am committed to maintaining an enjoyable and rewarding work environment for our diverse team members in every one of our global offices."
Empowering employees to succeed
Lina considers "our people" to be the company's greatest asset. She is dedicated to providing a strong learning environment that will enable all employees to grow to their full potential, achieve their aspirations and become role models within their community. "The company needs to constantly grow and deliver innovation and services. We actively invest in staff to keep them passionate about their contribution to the business and the experience they deliver to our customers."
DIDWW is highly committed to their strong focus on quality human capital, and helping their employees to succeed and excel. "We are not just a business and an operational environment, but we see our internship and training programs as  critical components in investing in our team. Every person at DIDWW has a development plan that encourages their personal and professional skills growth," Zaboras says. "We rely heavily on human resources to help us build a collaborative environment where the best minds are empowered and not hindered, allowing us to advance our expertise and shape future industry trends."
Zaboras talks proudly of the company's culture of knowledge sharing. "In such a dynamic industry, you have to remain receptive to new ideas, and a lot of suggestions cross my table on a weekly basis. We evaluate these ideas based on strategic business fundamentals, especially on what benefits they could provide to our customer base," says the CEO.
Ahead of the curve
Lina attributes a large part of the company's success to getting things right from the start, and defining a set of core principles for the business. "In our case, we have concentrated tremendous resources in building a rock-solid, state-of-the-art communications network. This means that we can take advantage of our core infrastructure to meet our customers' requirements. It may be that technology is becoming increasingly commoditized, but people are more reliant on the performance of that technology and demand that it should be flexible, scalable and cost-effective."
Another source of pride is the DIDWW team's ability to be agile to stay abreast of new technology. "We have to be very focused on technology, especially being at the core of VoIP and mobile transformation," Zaboras says. "I see huge advancements taking place in the telecommunications and networking industry, with disrupters around every corner. We have recruited and nurtured hardworking visionaries, engineers and technologists who are leading our various divisions so that we can capitalize on and maintain our strong position in the industry."
It is no secret the telecommunications business is highly competitive, and Zaboras is intent on improving the customer's experience and advancing the efficiency of service delivery. "We continuously look at methods of streamlining our internal processes and systems, and optimizing the way that our customers integrate with our systems. Essentially, we want to make it easier for customers to do business with us."
The pressure on providers like DIDWW is immense, but the company understands why this is so, and takes this reality as a challenge. "Brand reputation is critical when delivering essential services", says Zaboras. "Events such as network failures are a disaster, and we engineer, maintain and support our solutions so that we are able to strengthen the trust of our partners and customers."
No slowing down
As DIDWW continues to grow and triumph, Lina Zaboras has plenty of new ideas for the future. "Our customer base includes carriers, fixed and mobile network operators, internet service providers and enterprises. We have a world-class global infrastructure, and continue to launch innovative solutions, especially for cloud services. We are going ahead at full speed. Our purpose of making the customer's lives easier and earning their trust is highly motivating, and continues to drive us forward."
Zaboras' passion is unmistakable. "We are constantly asking how we can deliver even more to our customers," she says. "And there are so many opportunities, we sometimes need to rein in our enthusiasm!"