VoIP technology has spawned a booming market packed with exciting and innovative products and services that are constantly emerging and evolving to enhance our personal and professional lives. However, all of these advanced solutions also require in-depth knowledge and expertise by those who design, install, maintain and monitor VoIP services. In order to understand VoIP and advance the development and implementation of this technology, software engineers, network administrators, designers and other IT professionals need to learn and update their skills on a regular basis.
Northrop Frye, one of Canada's most eminent thinkers, once said, "The most technologically efficient machine that man has ever invented is the book." With this in mind, VoIP.Review has compiled a list of ten books for those who want to keep up to date with the increasingly complex world of high-tech VoIP communications. So, let's delve into some of the most useful publications!
VoIP Technology: Applications and Challenges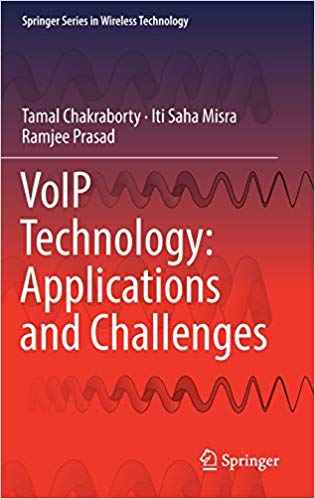 This book covers the general architecture of VoIP, together with the application and relevance of this technology in conventional and emerging wireless communication networks, including Wireless Local Area Networks (WLANs), Worldwide Interoperability for Microwave Access (WiMAX), Long Term Evolution (LTE) and Cognitive Radio Networks. The book will be of benefit to network designers, application architects and service providers looking for a coherent understanding of VoIP across a wide range of devices, network applications and user categories.
Get VoIP Technology.
VoIP: Cisco Unified Communications Manager Express: A Hands-On Approach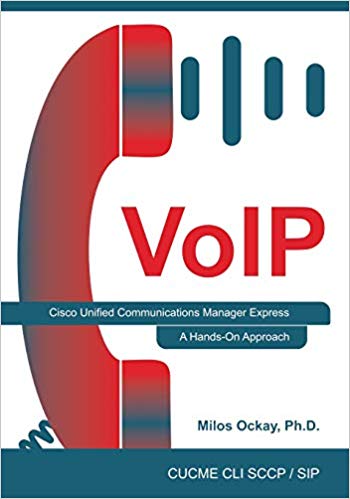 The book begins by explaining the essentials of Cisco Call Manager Express, and then consistently guides the reader towards functional VoIP solutions. Carefully selected command line interface configuration tasks are presented in parallel multi-protocol (SCCP/SIP) fashion and are fully solved with provided instructions and hints. A hands-on approach makes this book ideal study material for students, administrators and networking enthusiasts having at least some basic experience in IT and networking.
Get VoIP: Cisco Unified Communications Manager Express.
VoIP and PBX Security and Forensics: A Practical Approach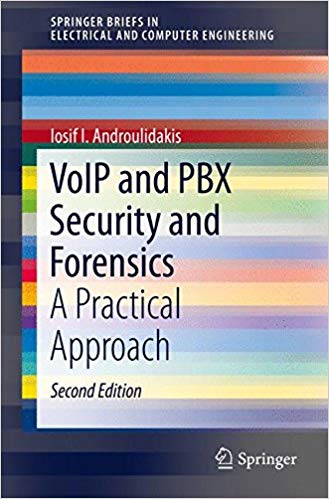 This book presents readers a theoretical and practical background of Private Branch Exchanges (PBXs) and analyses their confidentiality, integrity and threats to their availability. As an active participant in the ICT security field, the author delves deeply into security and forensics concerning PBXs. The aim of the book is to increase user awareness of the security and privacy threats that are present in the PBX, and thereby help users and administrators to protect their systems. In addition to discussing forensic advancements, the latest edition of this book includes major updates and an expansion of the VoIP chapters.
Get VoIP and PBX Security and Forensics.
Packet Guide to Voice over IP: A system administrator's guide to VoIP technologies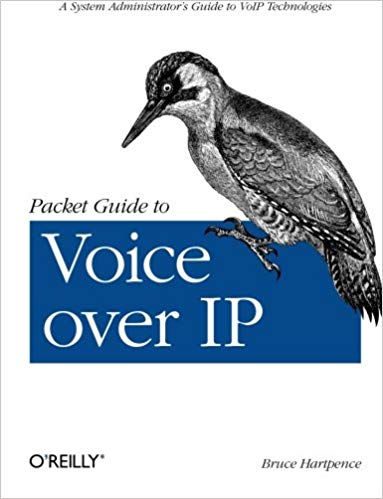 This guide is aimed at VoIP technologies system administrators and will provide useful knowledge of the protocols and architectures used by this Internet telephony technology. The reader will be reminded of traditional telephony concepts, including local loop, tip and ring, and T carriers, learn about the requirements for deploying packetized voice and video, analyze the Session Initiation Protocol (SIP), explore voice and video codecs for converting analog data to digital formats for transmission, and delve deeper into the mechanics and architecture of VoIP's standardized RTP and RTCP transport protocols.
Get Packet Guide to Voice over IP.
Securing Cloud Services: A pragmatic approach to security architecture in the Cloud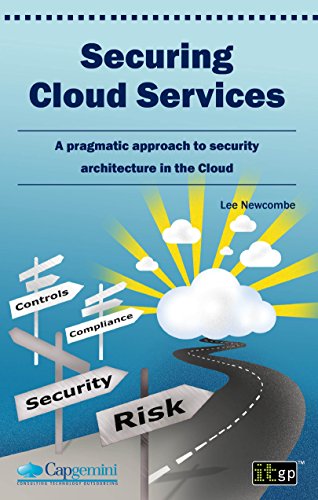 While providing an overview of security architecture processes, this book targets specialists in organizations using cloud computing, and is highly informative for identifying security risks and helping personnel to learn and implement best practices for managing those risks. The book is intended for business decision makers, senior IT stakeholders, enterprise architects, information security professionals, and anyone who is interested in working with cloud services but may be concerned about potential security vulnerabilities.
Hacking Exposed: Unified Communications & VoIP Security Secrets & Solutions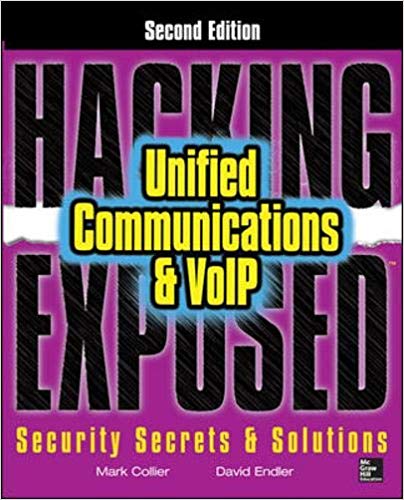 According to Dan York, producer and co-host, Blue Box: The VoIP Security Podcast, this book is "a must-read for any security professional responsible for VoIP or UC infrastructure." It offers detailed descriptions of more than a dozen ways that unified communications systems can be hacked, and provides solutions on how to protect those systems from attacks, based on real-life scenarios. This comprehensive guide advises on how to defend against TDoS, toll fraud, service abuse, block calling number hacks and calling number spoofing, and how to protect against the injection of malicious audio, video, and media files into VoIP systems.
Get Hacking Exposed.
Practical VoIP Security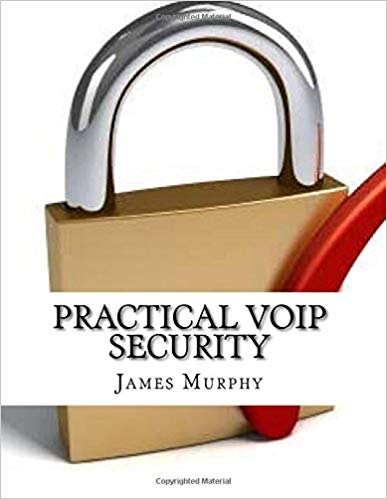 Security of customer details, employee records, product information, financial transactions and any other data is of vital importance today. With this in mind, the book covers a wide range of freely accessible hacking devices, and discusses how they may be utilized, particularly against VoIP telephony systems. Moreover, the book analyses the assault approaches that are used against SIP and H.323 protocols. Significant emphasis is placed on both assault and defensive methods.
Asterisk: The Definitive Guide: Open Source Telephony for the Enterprise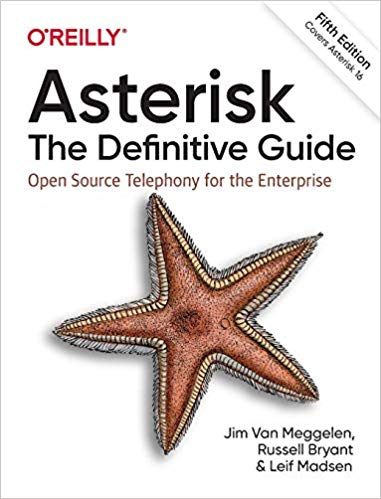 Written by members of the Asterisk community, this book is ideal for Linux administrators, developers, and other IT professionals. As an open source telephony platform, Asterisk combines over 100 years of telephony knowledge into a robust suite of tightly integrated telecommunications applications. The reader will discover how WebRTC provides a new direction for Asterisk, as well as gain knowledge on how to build a simple but complete phone system. In addition, the book details how ARI has emerged as the API of choice for interfacing web development languages with Asterisk.
Get Asterisk: The Definite Guide.
How to Start a VoIP Business: A Six-Stage Guide to Becoming a VoIP Service Provider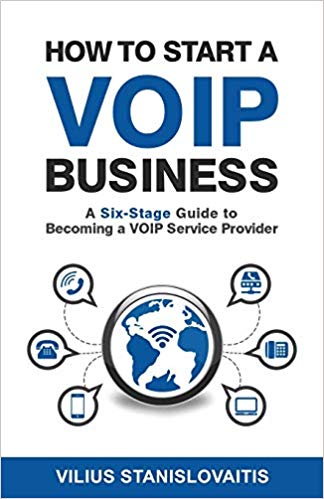 With positive reviews and strong recommendations, this book is described as a must-have for anyone involved in VoIP-related business, regardless of their skill level. The author describes in simple terms how to become a VoIP provider, and the methods for delivering a variety of services based on VoIP technology. Furthermore, this simple, six-stage guide provides readers with the know-how for launching services such as mobile VoIP, callback, calling cards, call shops, residential VoIP, virtual PBX, SIP trunking, wholesale transit, call origination and call termination.
Get How to Start a VoIP Business.
VoIP: A Complete Guide – 2019 Edition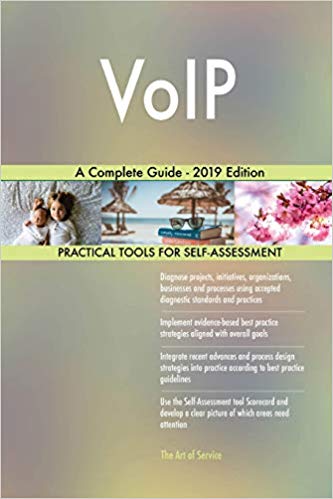 The acclaimed best-selling author Gerard Blokdyk offers this one-of-a-kind, detailed VoIP publication in an attempt to provide the reader with expertise in the VoIP domain, and prepare the audience for the many challenges that they will face in this industry. The guide features 816 new and updated case-based questions organized into seven core areas of process design, to help IT professionals identify areas in which VoIP improvements can be made. The questions will enable readers to better evaluate VoIP projects, initiatives, organizations, businesses and processes using accepted diagnostic standards and practices, and integrate recent advances in VoIP and process design strategies according to best practice guidelines.