The current telecommunications market is abundant with a variety of business phone systems carefully designed to improve day-to-day communications and handle the complex needs of various organizations. Among the different existing types of telephone systems appropriate for use by small-to-medium size businesses, VoIP-related phone solutions are currently the most common and are growing in popularity.
VoIP phone systems operate using broadband Internet connections and generally include quick and easy installation, cost effective pricing, high scalability and advanced features with options to cater to any entity size, ranging from a small business to a multi-service enterprise.
A comprehensive VoIP solution should include a range of voice functions needed by the organization, and support both external and internal communications as required. Finding the most suitable phone system may be overwhelming, so for those currently on the lookout, here are the top ten VoIP phone systems to investigate.
Nextiva VoIP Software
Business VoIP solutions from Nextiva provide small businesses with an enterprise-level telephony service that helps them to establish an in-house VoIP phone system to enhance the efficiency and effectiveness of the company's communications. Nextiva offers integrated and scalable PBX trunks, online faxing and hosted call center solutions. The advanced features include auto-attendants, voicemail-to-email transcription, conference call capabilities, unlimited calling as well as state-of-the-art customer support.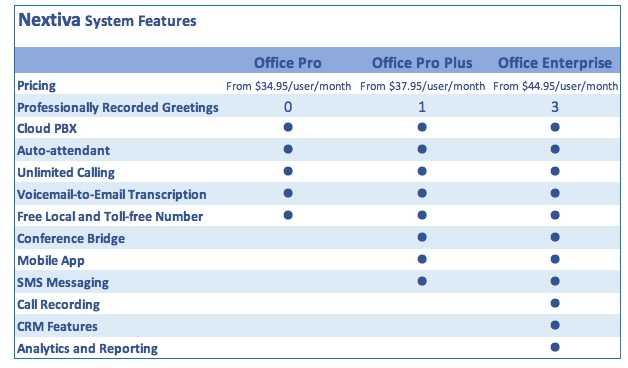 phone.systems™
The cloud-based phone.systems™ is an advanced, flexible, easy-to-use and feature-rich virtual platform that allows organizations to establish seamless global connections and increase business efficiency. The solution is highly interoperable and is specifically designed to interconnect with any VoIP provider. This platform is easy to set up and deploy without any expertise, and presents a unique web interface where users configure their phone system by simply dragging and dropping graphically-represented functional elements. The use of this product does not require the need to purchase any additional software or special hardware.
Furthermore, phone.systems™ is mobile compatible, and includes noteworthy powerful features such as the forwarding of voicemails as email attachments, distributing high volumes of incoming calls, displaying in-depth call logs, and creating online conference rooms. The proprietary Interlink feature allows users to link up with other phone.systems™ accounts and directly dial each other's internal (extension) numbers.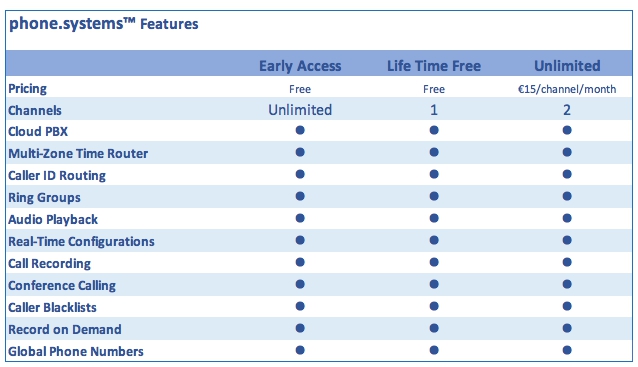 RingCentral Office
A provider of enterprise cloud communications and collaboration solutions, RingCentral enables the contemporary mobile and distributed workforce to connect and communicate in a cost-effective and flexible manner. The company's cloud PBX has multiple options for small businesses and large enterprises, and combines voice, video conferencing, team messaging, analytics, online fax and meetings, and also integrated omnichannel contact center solutions. Moreover, project management tools, conferencing options and file sharing features built into the platform assist in maximizing staff productivity and promote consistent collaborations throughout the company.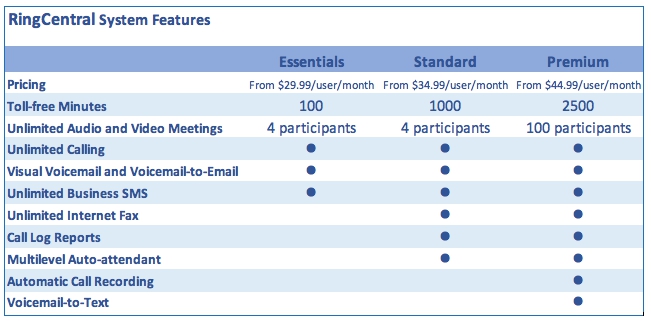 Virtual Office by 8X8
Experts rate this US-based VoIP provider highly for its combination of reasonable cost, user-friendliness and first-rate features. With an online portal, 8X8 system does not require PBX-style hardware or VoIP-enlightened IT professionals for its maintenance.  8X8 includes a rich array of features with options such as automated attendants, directory assistance, ring groups, caller ID blocking and on-hold music. Voicemail-to-Email and conference calling are offered for mobile employees. Collaboration tools include instant messaging, a presence feature showing who is available and who is busy, and the hosting of online meetings.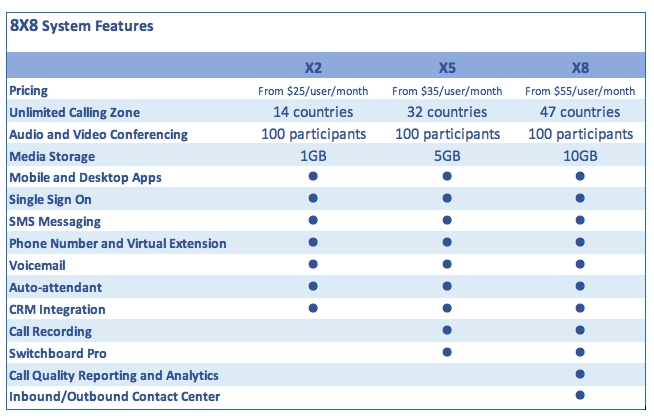 Vonage Business Solutions
Vonage is one of the first phone companies to offer VoIP for business, and is currently one of the top phone service providers with its cloud-based phone system encompassing dozens of features. This solution includes unlimited calling, SMS messaging, voicemail, team messaging, call recording, multilevel auto-attendant, video conferencing and more. Even though Vonage's phone service includes many similar call management features to its competitors, the company's partnership with Amazon Chime sets the solution apart by integrating communication and collaboration tools within its phone system.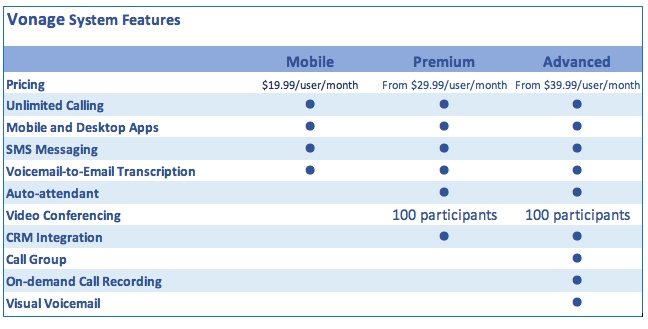 3CX Phone System
3CX is an open-standards PBX and is compatible with a range of SIP trunk providers, allowing for a fully functional IP PBX setup with a complete set of unified communications features. In addition to its easy installation and administration, the 3CX phone systems automatically controls security, backup, update and its repair management feature.  The PBX's built-in security includes automatic generation and management of SSL certificates, voice traffic encryption via SRTP, global IP blacklisting and provisioning of phones via uaCSTA. 3CX includes apps for iOS and Android, an intuitive web client, integrated WebRTC video conferencing, Click-to-Call, CTI and CRM integrations.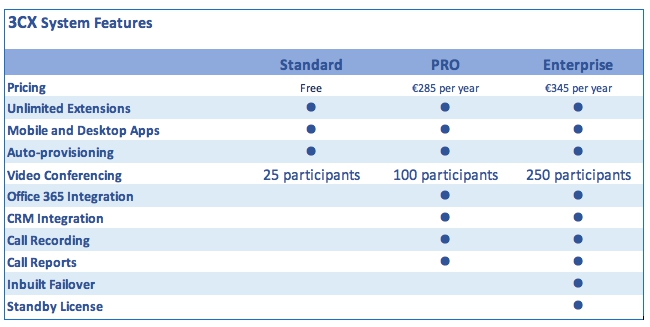 Phone.com Service
This flexible, cloud-based VoIP solution is best suitable for solopreneurs and budget-conscious small businesses with low-volume calling requirements. The Phone.com service offers packages of calling minutes with features such as an auto-attendant, voicemail-to-email, mobile apps, user extensions and call conferencing. Premium features include custom toll-free numbers, call recording, caller analytics, CRM integration and a live receptionist. In addition to a budget-friendly service plan, Phone.com is one of the few providers to offer low-price calling to selected countries outside the US, including Canada, France, Germany, Israel, Italy, Puerto Rico and the United Kingdom.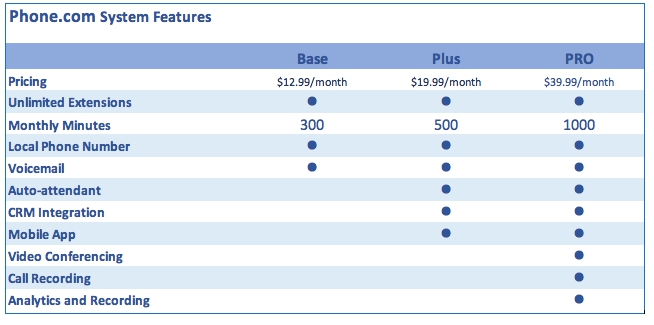 Versature VoIP Phone System
The cloud-based business VoIP services from Versature provide unified communications and call analytics solutions for business operations management. Versature's key features include, but are not limited to, auto-attendant, click-to-dial, simultaneous ring, voicemail-to-email transcriptions, phone directories and call recording. The company's call analytics software, Versature Insights, is a suite of tools that enables organizations to manage complex data, pinpoint efficiencies and detect valuable business trends. Furthermore, this phone system may be integrated with various cloud-based services, technologies and tools to obtain insights from call data and include them into business workflows.
Jive Voice
Jive Communications delivers enterprise-grade hosted VoIP and cloud-based unified communications solutions across the US. The Jive Voice platform is designed to improve employee engagement and productivity, and to enhance the customer experience, ranging from marketing interactions to support and brand promotion. The company's integrated suite offers a PBX call routing system, broadband internet, automatic call distribution, call recording, conference calling, internet fax, mobility, and a softphone. The Jive solution is suitable for a broad range of organizations, from small businesses to large-scale enterprises.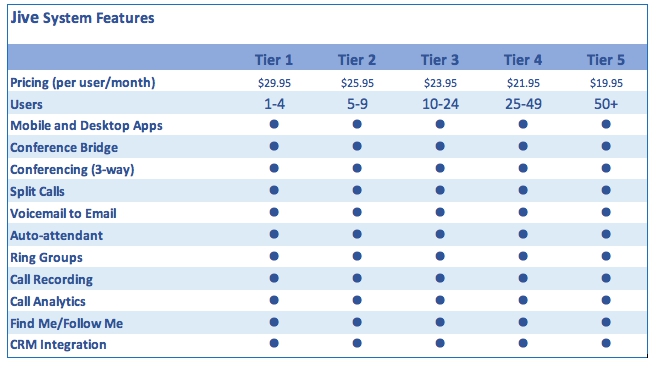 Grasshopper
The cloud-based VoIP Grasshopper phone service provides users with a virtual business phone number on their mobile or personal phones, eliminating the need for new equipment. This system was essentially designed for small offices wishing to present a more professional telecommunications facade to its customers. Grasshopper delivers a wide range of features including vanity phone numbers, unlimited calling, call forwarding, Wi-Fi calling, custom greetings, call screening and inbound fax which can, together with voice mail, be automatically converted to email. On the whole, the many favorable customer reviews emphasize how easy the Grasshopper system is to set up and use.